Diversity, Equity, and Inclusion Trello Board
TRLN has been busy exploring diversity, equity, and inclusion events, programs, resources, training, and more activities we could do as a consortium. One example of upcoming programming is the screening and panel for Change the Subject – registration open now!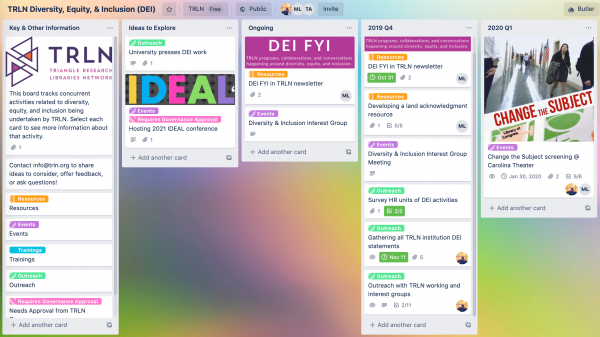 To track all the ideas we receive, we've created a Trello board that anyone can access. On this board you will find a card for each idea and by selecting a card, you can get more information. Many ideas have been shifted into quarters throughout 2020 and we will keep updating this board as new ideas are shared and planned for the coming years.
TRLN staff are reaching out to all TRLN groups over this quarter and next to garner more ideas and feedback for DEI work we can undertake together. The Change the Subject screening is one result of this outreach.
We want to structural build DEI into all the work TRLN does. This will take time and lots of work, but we think documenting our current and future activities is a step in making positive change. If you have any ideas or feedback to share about what TRLN can do to weave DEI throughout our work, please don't hesitate to reach out to info@trln.org!